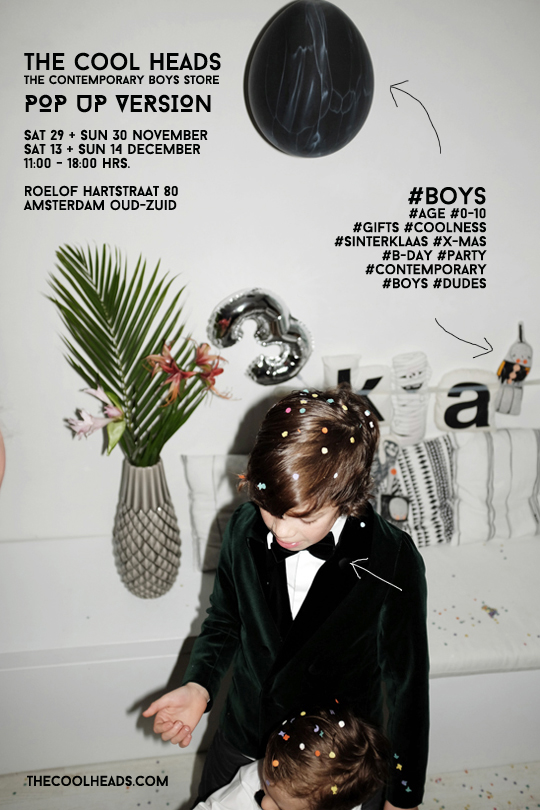 This upcoming weekend, November 29th + 30rd, we'll open our doors!
Let's meet and greet!
Have a nice talk…
Eat the amazing scones or other deliciousness of our favorite bakery-store
'de Bakkerswinkel'. We're lucky to have the opportunity
to have our store in their bakery.
And shop 'til you drop in 'the contemporary boys store'.
Have a look at our webstore to get an impression,
and maybe we have a few new surprises…
… a cool new brand from Sweden…
and all the way from… Amsterdam… More boys coolness.
Therefore you really need to show up ; )
You can buy gifts for #sinterklaas #xmas #b-days #partys
Or just because your dude needs some 'new cool tees & sweats',
not every boy in the country is wearing.
Our familymembers;
#anatology #ropvanmierlo #corbytindersticks #thefableists
#lionofleisure #mylittledressup #jaellundtofta #little titans
#tinyeditions #bellysesame #tinymodernism #sammyrose #boyslikeus
Hope to see you there. We're opening our doors 11:00 am
Roelof Hartstraat 80, Amsterdam-Zuid
And we suggest a few more nice NEW places to go to, this particular weekend.
It look like it's kids-styles-coolness in town!
On Saturday you can also visit the recently opened
new place to go to with kids;
Minimarkt Amsterdam.
On Sunday you also have to POP IN
at the 'one day' POP UP SHOP (at HQ Bugaboo)
of our lovely friends of
Pearls & Swines.
If you can't find it in our stores, you can't find it anywhere… ; )
SEE YOU THIS WEEKEND, HOPEFULLY!
Photography:thecoolheads.com