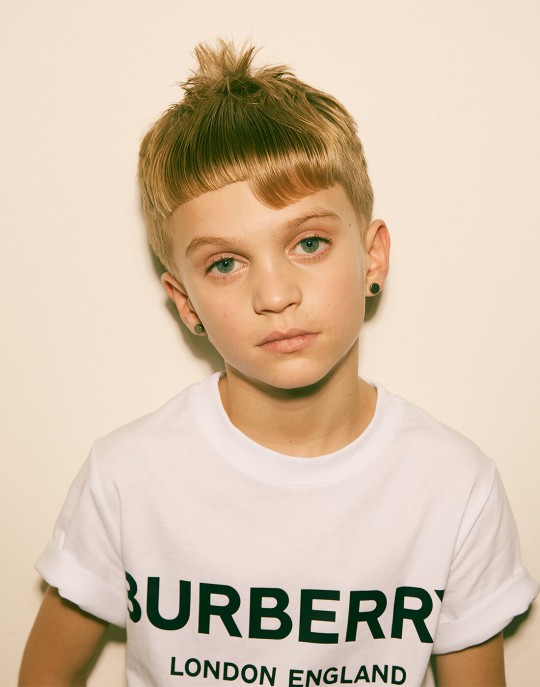 HAIR! … Two boys in the house who love to have their hair look awesome,
need a hairdresser every six weeks. YES! Unfortunately… (for my wallet…)
Once in a while they're changing hairstyles, but are still playing save.
Because they don't like to stand out and have people look at them all the time.
They're the more shy versions of boys… and they should listen to that.
However, as an editor and former professional photographer,
I love to look for the best hairstyles,
keeping an eye on what's happening. Get inspired!
That's my job… Not theirs. 

So, I don't want to push my boys to hard with choices.
They have a certain age where they can decide themselves…
Shaping their own identity.
Although I always try
(at least, which they think is annoying).
Luckily I have my Pinterest-boards, haha!
'Boy, love your hair!'  is a favourite.
There you see the changes in styles for boys in one.
AND I MAKE A LITTLE JUMP
FINDING THESE GORGEOUS IMAGES…
So, I have to share…
It is so contemporary.
A boy who still got a haircut, the hair in his face…
wearing cool black earrings.
Beautifully photographed, in a way, you can see every detail.
And if you see every detail, you need the best team.
Although it looks as a simple photograph, as in 'the form'…
You only see a boy in a white tee…
But it's not simple at all. It is in a way minimalistic.
Here are all the talented professionals coming together,
giving their best performance without ego. It doesn't have to be a circus.
It is the (fine) magic of the whole team.
Thank you for inspiring us!
THE VERY TALENTED team, for Milk Enfant China.
Photography: Ulla Neyeman @ullanyeman
Stylist: @geajournal
Hair & Makeup: @jogillingwater_makeuphair
Assistant: @mrjosephwiles
Digital Zoe: @bernieandgeorge
Studio: @tearoomstudio
Model: Rupert for @graceandgalormodels
WOLF & RITA – FREEDOM BLUES
Collection AW 2020

Full of beautiful contemporary printed shirts and (zipped) hoodies,
comfy pants with stripes, or in corduroy or in (soft) cotton,
jackets with cool artistic badges or in herringbone (our favourite),
onesies in corduroy and a more glamourous version in
gorgeous metallic greenish (yes yes!),
and some cool snapbacks for the kids who love accessoiries.
Here you can learn about styling and mix and match. Away from the
save styles. Although, if you prefer uni and basics, like we do,
there are still a lot of beautiful very well made styles left.
And if you LOVE prints and vibrant colours,
this is one of the collections you need in your wardrobe.
For boys/kids, to create their 'own identity.'
'Freedom Blues', the name of this stunning collection of Wolf & Rita
senses all kinds of 'feelings' and it's true. It has such a different meaning
at this moment right now. Last january ('20), when we saw this beautiful collection
already live in Paris, we could have never guessed we would end up
in this extremely global situation. 
'Summer 2020'
What a strange and weird time in our history. Due to the virus
and the following lock-downs obviously. But we think more important,
due to one of the most difficult and painful topics of our time, RACISM.
It makes us realise that we didn't grew as much as we hoped for, in society.
A sad conclusion. We personally are so fed up with people who can't accept
any individual different than themselves on this planet. Always let their fear
be leading into their actions. We are all humans on one planet.
We should take care of each other, learn from each other.
Maybe we are not there yet at all,
but at least we are heading towards 'a new chapter'.
The importance of deepening the dialogue, to really 'listen' to each other,
especially to the ones in pain, to become more aware, absorb knowledge,
be warm-hearted. And most important know the history and what some
'HEROES' had to go through… to make sure it will never happen again!
We can learn from all of this, so it didn't happen for nothing.
Wolf & Rita have their own hero, the amazing artist William "Bill" Traylor.
FREEDOM BLUES is a tribute to this master. He is regarded today
as one of the most important American artists of the twentieth century. 
William was born into slavery and worked his whole life,
after the 1863 Emancipation Proclamation, as a farm laborer in rural Alabama
and later as a shoemaker and factory worker in Montgomery.
It was only then, homeless and in his eighties, that Traylor began making drawings
and paintings on paper, using gouache and other media.
His works, he left behind more than one thousand pieces of art,
depicting cats and dogs, rabbits, street figures, dancers, and other characters,
are visually striking, simple and yet powerful.
Traylor's vibrant imagery and colour palette inspire and compose the patterns
created for Wolf & Rita's Autumn-Winter 2020 collection. 
Traylor would not live to see the civil rights movement
but he was contemporary to those who laid its foundation.
To those, then, agents of social change
and to those acting today they wish to pay homage. 
You will understand that this particular collection of Wolf & Rita is here,
without expecting, at the right place and at the right time.
A beautiful tribute to someone who wasn't aware at the moment,
what he would have accomplished and had given to the world.
How wonderful and heartwarming we can enjoy his beautiful work now…
A big 'chapeau' for following your heart and gut feeling, lovely Wolf & Rita.
Photography and Design Carlos Lobo
Styling Nelson Vieira
Styling Assistant Sandra Mendes
Models Ana Marta, Carolina, Felipe,
Gabriel, Lia, Lara, Mafalda, Manuel,
Maria, Maria, Margarida, Rita, Rodolfo and Sara.
(Yesss, there's an amazing girls collection too…)
p.s. In 2014 we've already showed you this inspiring brand.
Read it here… and in 2016, find here and in between…